Phonics Lead – Stacey Burke
Phonics at St Mary's
We are resolute that only children with severe cognitive difficulties cannot learn the phonetic code, therefore at St Mary's we expect almost all children to learn to read through clear and progressive phonics teaching. 
Direct phonics is started within the first few weeks of children starting school at St Mary's; no time is wasted. The phonics teaching is intensive, following the 'Little Wandle Letters and Sounds Revised' programme. 
At St Mary's we recognise that reading is not an innate skill – it is something that needs to be directly taught. Children do not learn to read by accident, or by being given books to 'read' with sounds in which they have not been taught. Our 'Big Cat Collins' reading scheme has been carefully chosen to ensure that the home reading books are closely linked to the sounds that have been taught – so that children do not encounter words which they cannot decode. As children become more confident readers, carefully chosen books also include the 'Tricky Words' which children have been taught within the phonic scheme. 
In order to ensure that all staff are able to deliver this high priority teaching to a high standard, all staff who join St Mary's receive phonics training as part of their induction package: all teachers need a firm foundation in early reading skills to support struggling readers at all ages. 
Phonics Teaching Approach
It is vital that the teaching of phonics in school is systematic and expectations are clear. Of the 26 letters and 44 phonemes, there are approximately 140 different letter combinations which children need to learn to become fluent readers. As such, the key ingredients to phonics teaching at St Mary's are: 
All children in reception and year 1 classes will receive at least one daily phonics session

As much as practicably possible, children will move through the order of sounds together: children who need extra support to catch up will be prioritised between sessions, to ensure that learning gaps do not appear, or widen over time

The teacher is responsible for the teaching of phonics to all children; well qualified teaching assistants support the teaching and intervention, but the teacher has responsibility for the learning of all children

Children's growing phonic knowledge is closely assessed and tracked, away from the point of teaching, to ensure that all staff know children's strengths and areas to practise in reading. Home phonic reading books are targeted appropriately, based on this assessment 

Phonics teaching includes 'common exception words' – which whilst can be decoded with higher order phonic knowledge, most are phonetically irregular, so are best taught as 'sight words' – where children just 'know' the words without using phonic blending strategies. The Little Wandle Letters and Sounds Revised scheme calls these 'tricky words'

Phonic application and revisiting is promoted across the early years environment 

Consistent phonics prompts are displayed in all classrooms and intervention spaces from reception to Year 6 – at the appropriate level – to support reading and spelling strategies 

Whilst school staff demonstrate fidelity to the 'Little Wandle Letters and Sounds Revised' approach, they ensure that phonics teaching is multi-sensory – particularly in Early Years. Creative teaching approaches are encouraged, so long as they do not deviate away from the systematic order and approach of the chosen programme

Children develop speed and fluency within their reading, by being secure in phonics knowledge and the taught sight vocabulary – so that children do not lose the meaning of sentences, through struggling to decode. Children experience success when books are matched to taught phonic knowledge, instilling positive attitudes and further success. Success breeds success. 

Staff should aim to present the sounds in the children's regional accent, to avoid confusion

We do not teach 'consonant blends', e.g. 'st', and associated 'st' word lists. s/t/e/p can all be phonetically decoded, without adding the additional 'st' learning burden to children's growing phonic knowledge

In reception, we have ambition and expectation for our children, recognising that CVC words are not always letters, e.g. 'sheet' is a CVC word: sh/ee/t. Importantly, 'saw' is not a CVC word – s/aw

We ensure that any words used to teach phonic sounds are clearly explained, e.g. a-e 'quake', to develop children's growing vocabulary

Phonics learning is strongest when parents are true partners. As such, each child will always have home reading books to support home learning. Parents have access to both in school workshops and online support in this area. 
Our early home reading approach consists of: 
Reception – Year 1

Book Type

Rationale

The sounds a child has learned

Reinforcing the current learning in school. Typically, this will not be a sound taught that week – we are always acutely aware of the need to instil confidence in our youngest, but practising sounds taught previously. We do not expect our parents to 'teach' our children to read.

Potentially, a previous sound learned which needs reinforcement following teaching

Revisiting a previously learned sound – targeted to those sounds that assessment shows is least strong and that is being addressed in intervention in school. This is part of an intervention approach so not all children will receive an additional book.

Children's story books from our lending libraries

These books are to be read to children by at home adults. These books aim to develop children's love of reading, as well as support the growing vocabulary. Parents can request the school to buy books which they would like to read with their children.

We expect all children to read at least 3 times per week at home. Children who do not read at home and are falling behind will be afforded reading opportunities with adults at school. All children in reception and year 1 also have a 'sound book' to record the sounds and 'Tricky Words' that they have learned, to reinforce at home. Children's books are changed weekly.
Our approach to seamlessly linking home and school reading practice sessions is detailed below: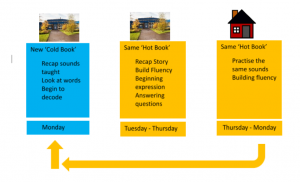 Phonics Year Group Expectations 
Reception 
The end of year expectations for children's phonics ability is to be secure in Phase 3 with children accessing Phase 4 upon exiting Reception. Phase 4 is also reviewed as children commence year 1. Staff embed opportunities to play with and explore sound, and equip children with core listening and sound discrimination skills which are required for success in reading and writing as the children grow. Children who are not secure in phase 1, will be supported in this phase alongside the teaching of phase 2. 
Year 1
Children are expected to begin Year 1 at Phase 4 with an end of year aspiration of completion of Phase 5. Our aspiration is that all children will meet the demands of the Phonic Screening Check. The children will be able to use, understand and demonstrate the following terms: 
∙ Phonemes 
∙ Digraphs 
∙ Trigraphs
∙ CVC words 
∙ Capital and lower case letter 
Year 2
Expectations are for children to enter secure at Phase 5, so that children can progress to the spelling strand of the national curriculum for year 2. Due to the variety of rules and alternatives, time is spent deepening and ensuring a strong understanding of previous phases.
Progression in Fluency 
In order to become fluent readers, children must master the appropriate phonic sounds detailed in the phonics overview (*full detail in appendix 1), however, in order to continue to develop as fluid readers, the following progression decoding from the National Curriculum is followed:
Reception
Year 1
Year 2

Children read and understand simple sentences. 

They use phonic knowledge to decode regular words and read them aloud accurately. 

They also read some common exception words. 

They demonstrate an understanding when talking with others about what they have read.

Apply phonic knowledge to decode words 

Speedily read all 40+ letters/groups for 40+ phonemes 

Read accurately by blending taught GPC 

Read common exception words 

Read common suffixes (-s, -es, -ing, -ed, etc.) 

Read multisyllable words containing taught GPCs 

Read contractions and understanding use of apostrophe 

Read aloud phonically-decodable texts

Secure phonic decoding until reading is fluent 

Read accurately by blending, including alternative sounds for graphemes 

Read multisyllable words containing these graphemes 

Read common suffixes 

Read exception words, noting unusual correspondences 

Read most words quickly & accurately without overt sounding and blending

Year 3/4
Year 5/6

By Key Stage 2, children should be able to decode accurately, and be applying a growing wider English curriculum knowledge to their reading of new and challenging vocabulary – progressively with the increasing level of challenge presented in the texts which they are presented

Apply their growing knowledge of root words, prefixes and suffixes, both to read aloud and to understand the meaning of new words they meet 

Read further exception words, noting the unusual correspondences between spelling and sound, and where these occur in the word.

Apply their growing knowledge of root words, prefixes and suffixes (morphology and etymology), both to read aloud and to understand the meaning of new words that they meet
For children who did not pass the Phonic Screening Check in Year 1, or Year 2, it is vital that intensive decoding work continues. Children who commence Key Stage 2 unable to meet the demands of the Phonic Screening Check, cannot access age appropriate text within the English and wider curriculum and this must be catered for appropriately across the full curriculum alongside intensive intervention, still founded in the Little Wandle Letters and Sounds Revised approach. 
A Wider Reading Approach 
At St Mary's we recognise that the teaching of 'reading' in its fullest terms, even in Early Years, must extend beyond phonics. In order for children to become successful readers in the longer term, children must develop language, comprehension, dispositions and linguistic skills that phonics alone cannot deliver. 
The use of 'Real Books' 
'Real' books are at the heart of our curriculum, which is why within our school timetable, every year group enjoys a dedicated reading session – affording children sufficient time to practise their reading skills – and 'class book time' each day. We recognise the value of the class reading together, experiencing the joy and emotions of a good book together – but this can only be experienced if it is prioritised within the curriculum; at St Mary's, it is. Staff read to children of all ages – sharing a passion and skill in reading aloud to children. 
Reading aloud to children allows the opportunity to model the 'subconscious reader voice' – and simply enjoy a good book, with no pressure for the children listening. Modelling fluent reading… pace, flow, rhythm, language patterns, rhyme is key – as many children will not hear this quality oration at home. 
This language focus starts with our Early Years. Across the reception year, children have the simple homework of reading their books, using their sound books and learning a simple nursery rhyme at home, by heart. This develops children's understanding of rhyme, intonation, performance and vocabulary knowledge, with increasing complexity across the year. 
In the Early Years, children will know certain stories well across Early Years with Nursery using the 'Fab Four' and Reception using the 'Fab Five'. We have also aligned a range of well-known nursery rhymes and songs to our Early Years Curriculum; this ensures that children are exposed to a strong language offer related to their area of learning, as well as ensuring children develop their cultural capital through a known bank of traditional rhymes and songs to pass on through the generations.
Children's reading stamina will be developed through increasing the length of the books that children will experience – these are explicitly planned for across KS1, with children listening to short chapter books before they are expected to read them for themselves. 
SUPPORT FOR PARENTS IN EARLY READING
Although your child will be taught to read at school, you can have a huge impact on their reading journey by continuing their practice at home.
There are two types of reading book that your child may bring home:
A reading practice book. This will be at the correct phonic stage for your child. They should be able to read this fluently and independently.
A sharing book.  Your child will not be able to read this on their own. This book is for you both to read and enjoy together.
Reading practice book
This book has been carefully matched to your child's current reading level. If your child is reading it with little help, please don't worry that it's too easy – your child needs to develop fluency and confidence in reading.
Listen to them read the book. Remember to give them lots of praise – celebrate their success! If they can't read a word, read it to them. After they have finished, talk about the book together.
Sharing book
In order to encourage your child to become a lifelong reader, it is important that they learn to read for pleasure. The sharing book is a book they have chosen for you to enjoy together.
Please remember that you shouldn't expect your child to read this alone. Read it to or with them. Discuss the pictures, enjoy the story, predict what might happen next, use different voices for the characters, explore the facts in a non-fiction book. The main thing is that you have fun!
Below are some key sources of support that parents can use to ensure that home learning most effectively reinforces school learning – because the way many adults learned to read is not how it is taught today! Most importantly, however, our door is always open at St Mary's – so any questions, please just ask!
Parent presentation for Little Wandle.pptx
Phase 2 Sounds Reception Autumn 1
Phase 2 Sounds Reception Autumn 2
Phase 3 Sounds Reception Spring 1
Our YouTube showcases phonics at St Mary's.
Phonics in Continuous Provision