"The more that you read, the more things you will know. The more that you learn, the more places you'll go."
Dr. Seuss
Reading Coordinator – Mrs A. Hick
St Mary's is a school that loves books. We have access to a wide range of fiction and non-fiction books, which are used across the curriculum. Reading is at the heart of our curriculum and our classroom environments from our two year old provision up to year six, have a wealth of reading material.  We have recently transformed our shared reading spaces and we are lucky enough to have a wonderful library and reading nook that all children have access to.
Our teachers love read to our children and we recognise the importance of the teacher as an inspirational role model. 
Teaching a child to read is the greatest gift that we can give a child in our school. Because of this, we see it as a primary purpose of our curriculum. From Early Years to Year 6, we ensure that our children not only learn the skills and knowledge to enable them to read, but also to develop positive life-long dispositions and attitudes towards reading – that will take our children through secondary school and into adulthood. 
Teaching children to 'decode' or 'read' in its most basic form is a key driver for our Early Years and Key Stage 1 curriculum. Once children can 'read', through a robust and systematic approach, the world opens up to them. It is our duty to ensure that our children are ready to embrace both the literary and wider world. We use the 'Little Wandle Letters and Sounds Revised' scheme of learning to deliver our phonics teaching in our school; we have had extensive support from the regional 'English Hub' to ensure best practice is seen in this vital aspect of our work. 
More information on the  'Little Wandle Letters and Sounds Revised' scheme for parents can be found here. 
Research shows that approximately 90% of the vocabulary that we meet is only ever met through reading it; reading high quality texts, coupled with an interesting and knowledge rich wider curriculum, is key to securing our children's confidence and mastery of the English language. 
Within our broader English Curriculum planning, our intent for reading is clear: 
Credible and rich texts will be the central driver to the English curriculum – promoting a love of reading, excellent models of language, cultural broadening and confidence.

Children become fluent and age appropriate readers across Early Years and Key Stage 1 – so that they can access and comprehend all that Key Stage 2 has to offer, gaining a vitally growing vocabulary across the key stage. 

With few exceptions, all children reach the expected standard in year 1 phonics, with word reading fluency being the primary driver of the year 1 reading curriculum – so they are ready to gain greater reading comprehension skills as their decoding secures.
For a full overview of how St Mary's Catholic Primary School teaches and priorities reading, please download our 'Reading Strategy' below. 
Reading at St Mary's is out of this world!
Reading Rockets is our motivational incentive for reading at home and our children thrive off the challenge of blasting off through the planets to reach the sun. We know that reading at home is equally as important as reading in school. We want our children to have access to high quality texts whenever they read. With this as our inspiration, all children are provided with a Big Cat reading book to take home and read alongside a library book. The books provided are fully decodable and are matched with the phonic ability of the reader in KS1 moving onto the child's reading age.
The reading curriculum is deliberately designed to be ambitious and aspirational, ensuring that every child leaves our school as a competent, confident reader. Drawing on the latest research around explicit vocabulary instruction, reading fluency and key comprehension strategies, this curriculum is a synthesis of what we know works in helping children make outstanding progress in reading and a distillation into consistent, well-structured practice. The clear structure and principles ensure that teaching is progressive, challenging and engaging and the rich, diverse literature spine acts as both a mirror so that every child can see themselves in the core texts and as a mirror to engage pupils with experiences beyond their own field of reference.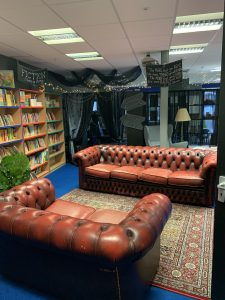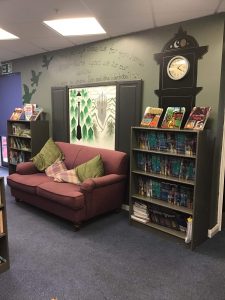 Story Time!
Harry and the Dinosaurs go to School
Brown Bear, Brown Bear, What Do You See?