"The more that you read, the more things you will know. The more that you learn, the more places you'll go."
Dr. Seuss
Reading Lead – Amanda Hick
Intent
At St Mary's Catholic Primary school we fully recognise the importance of reading and thus wholly embrace all aspects of literature; the old and the new; the report and the comic; the novel and the webpage; all in a bid to immerse our children in stories and texts that broaden their horizons and open doors to new worlds.
Our children have a love of reading, they are curious and want to know more.  
Implementation
At St Mary's Primary School, we are a school that loves books. We have access to a wide range of fiction and non-fiction books, which are used across the curriculum. Reading is at the heart of our curriculum and our classroom environments from our two year old provision up to year six, have a wealth of reading material.  We have recently transformed our shared reading spaces and we are lucky enough to have a wonderful library and reading nook that all children have access to.
Our teachers love read to our children and we recognise the importance of the teacher as an inspirational role model. Teachers read their class text for twenty minutes each day to the children, with each child having their own copy. 
In KS1 we teach reading with an initial focus on decoding. We use Letters and Sounds to teach systematic synthetic phonics. As well as teaching decoding skills, we endeavour to instil a love of reading through the use of class texts, books to supplement the curriculum content and shared reading spaces.
In KS2 we have a daily, non-negotiable, guided reading lesson. On a Monday and a Friday, the focus of the lesson is a chosen class novel and the remainder of the week, the children use a range of texts that are linked to their curriculum content.  During guided reading lessons, the children focus on developing reading with fluency, understanding vocabulary, and inference and prediction skills. Guided reading is delivered through whole class approach, where all children are given the opportunity to read and develop their reading skills. As part of this reading model, the teacher models reading with fluency, before selecting children to read throughout the lesson. At any point, the teacher can take back control of the reading. -the technique is called 'Control the Game'.
Our reading at St Mary's is out of this world! Reading Rockets is our motivational incentive for reading at home and our children thrive off the challenge of blasting off through the planets to reach the sun. We know that reading at home is equally as important as reading in school. We want our children to have access to high quality texts whenever they read. With this as our inspiration, all children are provided with a Big Cat reading book to take home and read alongside a library book. The books provided are fully decodable and are matched with the phonic ability of the reader in KS1 moving onto the child's reading age.
Impact
We unashamedly have the highest aspiration for all our children. Our 'can-do' attitude ensures all children are confident, avid readers. When the children move on from St Mary's, to their next stage of education, they will be curious about the world they live in and know that books provide a wealth of knowledge.  Children at St Mary's have a love of learning and we all LOVE reading.
Reading at St Mary's is out of this world!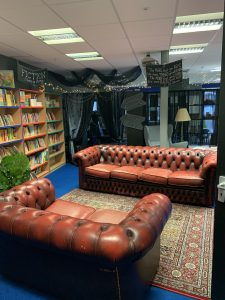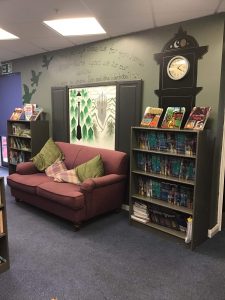 Story Time!
Harry and the Dinosaurs go to School
Brown Bear, Brown Bear, What Do You See?